Powerflex Bushes

We have worked closely with Powerflex over the past decade to create a comprehensive and high quality range of suspension bushes for Lancia Delta integrale and Evo. We stock all of the Lancia Delta integrale and Evo bushes in the classic purple colour and the Heritage collection.
Since we are a long standing distributor of Powerflex bushes, if you have another car you would like parts for or if you would like the black series bushes for your integrale, we can help. Please contact us if you have any special requests.
Search for the bush that you are interested in and look for the green logo for Heritage Collection parts.
Road Series – for Road and fast Road use.
POWERFLEX Road Series bushes improve your cars' road holding and chassis performance by controlling the amount of unwanted flex in the suspension. This means the suspension is doing what it is supposed to. It means your tyres have greater contact with the road at all times, therefore, improving safety and performance. Correctly formulated polyurethane is as good if not better at noise, vibration and harshness suppression when compared to worn rubber. Our Road bushes offer Prolonged tyre life, Improved performance, Increase safety, Greater cost-effectiveness.
Heritage Collection – for Classic and Restoration use.
POWERFLEX Heritage Collection bushes are manufactured using modern day materials with properties biased for the road. These dark grey coloured bushes will improve any collector's car, whilst retaining the same standard appearance of a rubber bush. Our new range speaks to the growing demand for quality replacement parts that have an aesthetic in keeping with' the look of the original part and restoration project as a whole whilst carrying all of the performance and longevity benefits offered by Powerflex's unique blend of polyurethane. Going a step further than simply using the same material and durometer of hardness for all of our parts, each part location has its own shore designation to ensure improved suspension performance without discomfort or vibration, all of which ship in our new 'Classic' Dark Grey colour suitable for all road-based applications.
Black Series – for Track and Motorsport use.
POWERFLEX Black Series bushes are manufactured using our Black 95 Shore A compound to provide maximum control of chassis geometry. They are designed for the Track, ready to Race and are engineered to be the best. This compound can be up to 80% more resistant to load than standard rubber and 25% stiffer than our purple performance material. If your requirements are purely for the ultimate in handling and chassis performance then Powerflex Black Series are unique, offering the most precise and accurate alignment for your chassis.
We do not offer black series bushes on the website, however if you would like them for your car, we can supply them for you.
Materials

Our materials are colour coded to make them easily identifiable. Below explains the shore rating and their common uses.

Red 65A – Used for our Universal exhaust mounts and diesel engine mounts.
Yellow 70A – Mainly used for engine mounts, diff mounts and subframe mounts or areas where the bush needs a lot of movement and absorption.
Purple 80A – Our most common material. This is used in most areas of the suspension and provides the right mix between performance and compliance.
Black 95A – Our hardest material. This is used for our Black Series range or on normal road vehicles where the vehicles suspension demands require us to use this hardness of material i.e. in areas of high load.
Grey* - Used specifically for our Heritage Collection. This can be any of the durometers mentioned but will always be the same as the equivalent part from our Road Series i.e. if it's Purple 80A in our Road Series, it'd be Grey 80A in our Heritage Collection.
On our Road Series and Heritage Collection kits, we can use a mix of all 4 of our materials. During the development stages, we test the original bush and see what the requirements are in terms of strength and movement. At that point, we then decide which of our materials would be best suited. We don't believe in a one material suits all rule. Manufacturers will do the same and will use different shore rubbers, however, it's not as noticeable as all rubber bushes look visually similar.
Can the Road Series be used on 'Tuned' cars?
Our Road Series parts would be absolutely fine for 'Tuned' cars and Fast Road use. They offer the right compromise between performance and compliance, something that most people require from a daily driven vehicle. Yes, fitting our Black Series parts is possible and has and will be done by many people, but naturally by going even harder with the bushes you are compromising the comfort of the vehicle and therefore you may experience a harsher and noisier ride.
---
Videos from Powerflex
---
Lancia Delta integrale and Evo Bush Kits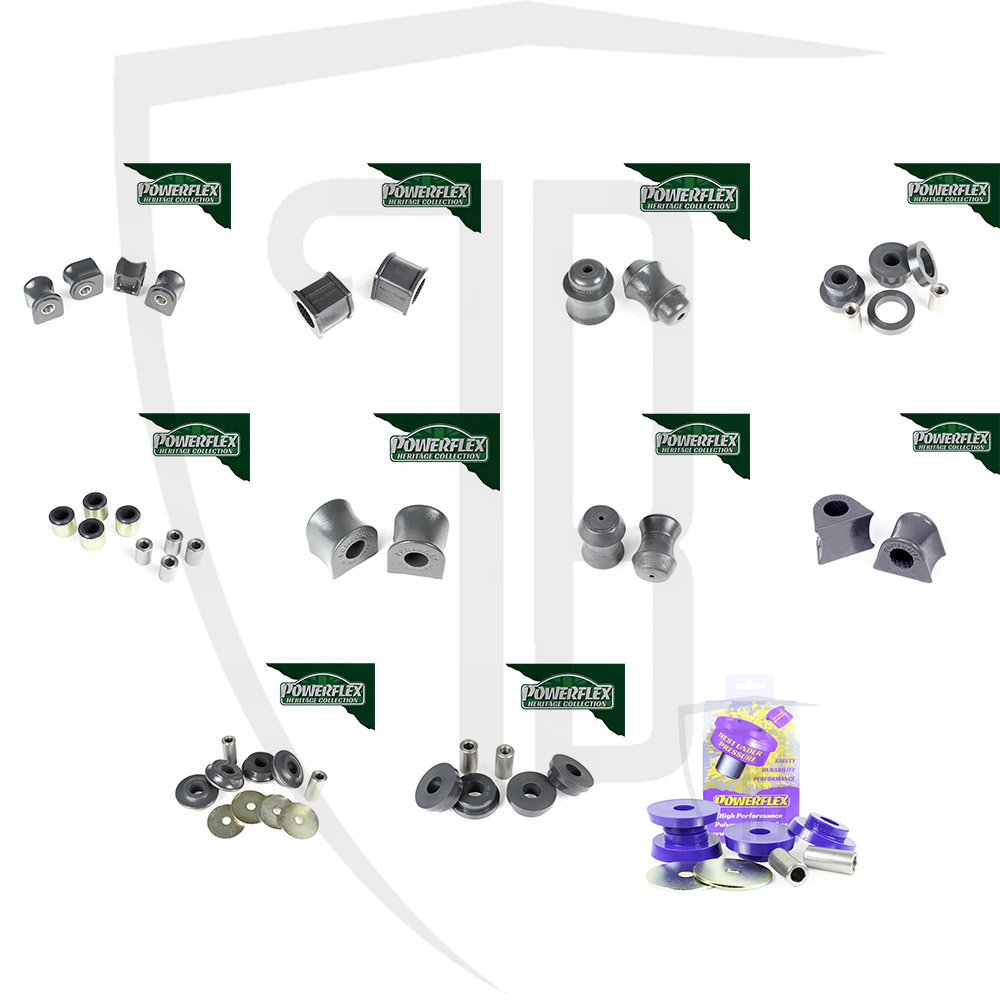 Powerflex Full Suspension Bush Kit For Lancia Delta integrale 8v and 16v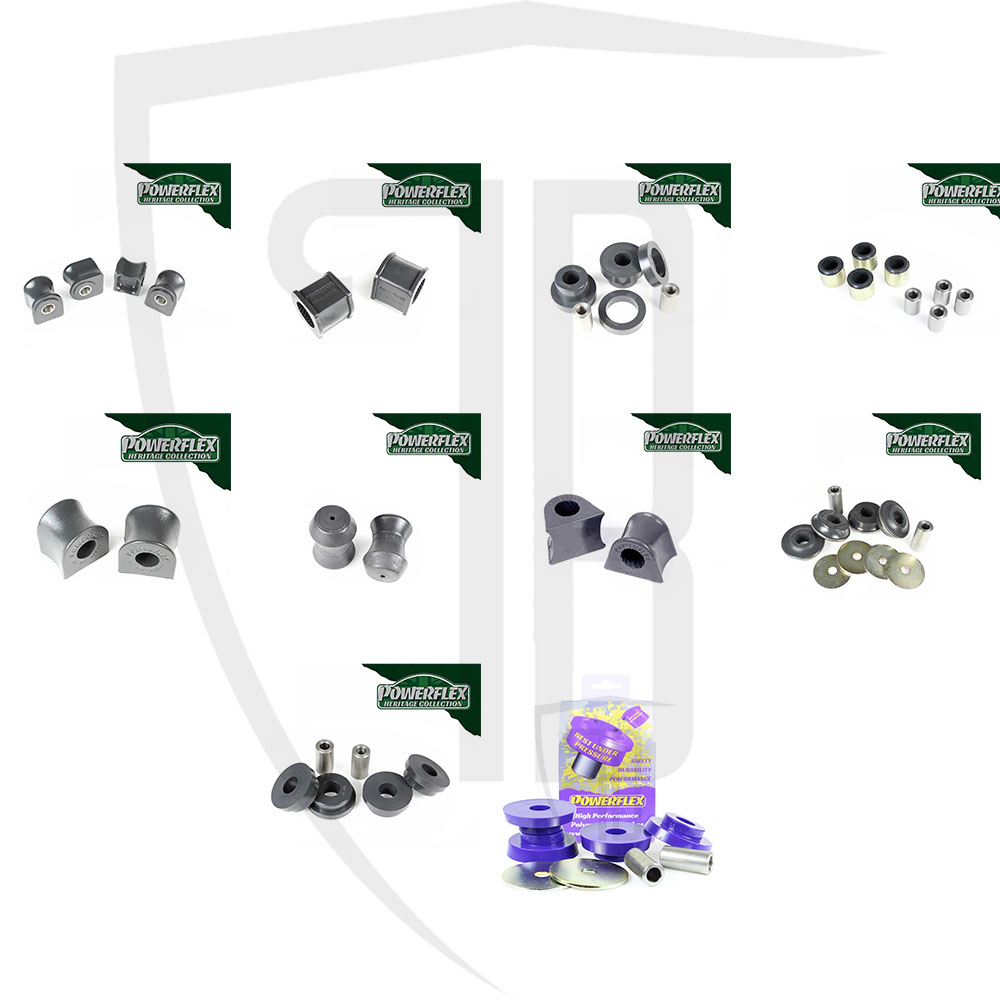 Powerflex Full Suspension Bush Kit For Lancia Delta Evo and Evo 2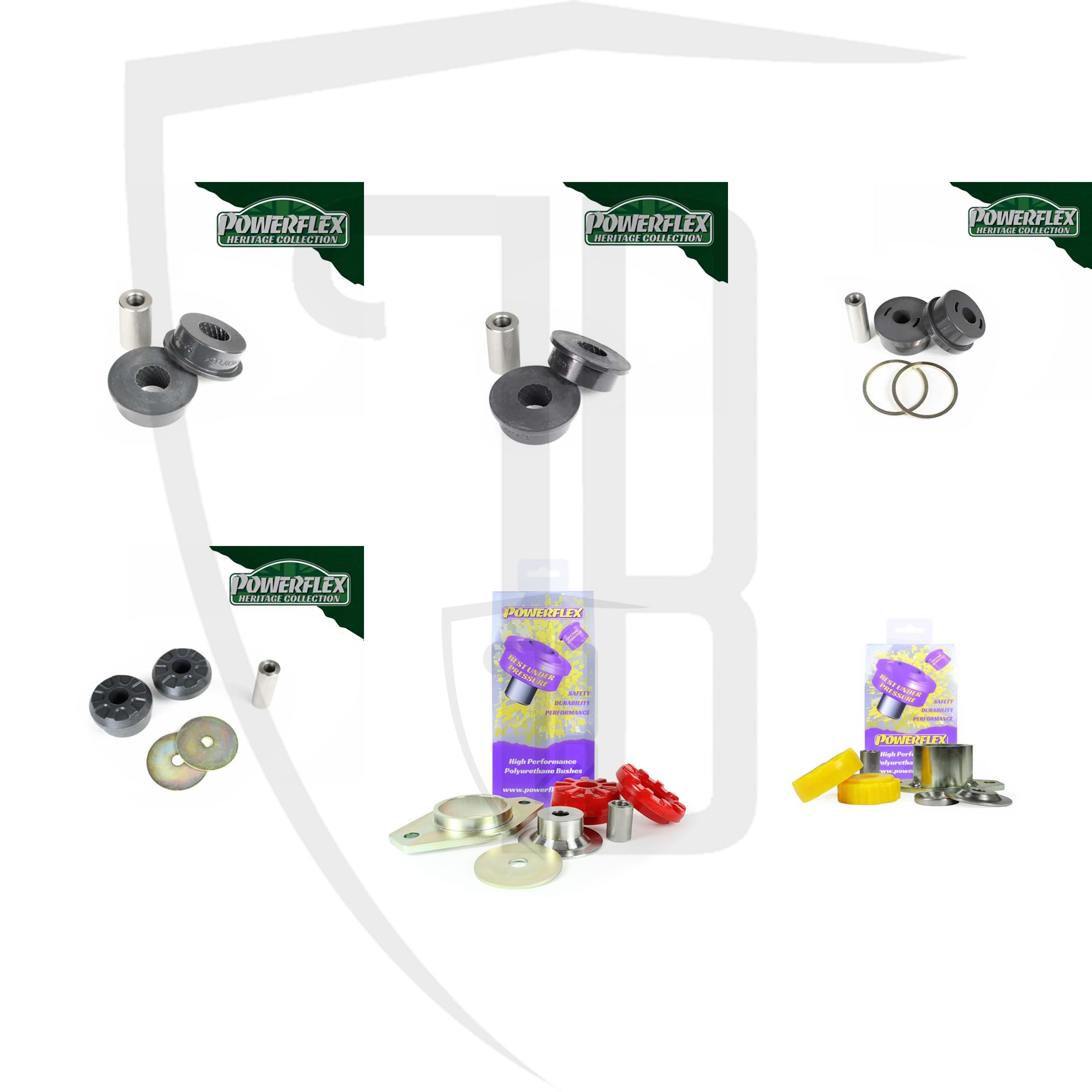 Powerflex Gearbox and Engine Mount Set for Lancia Delta integrale and Evo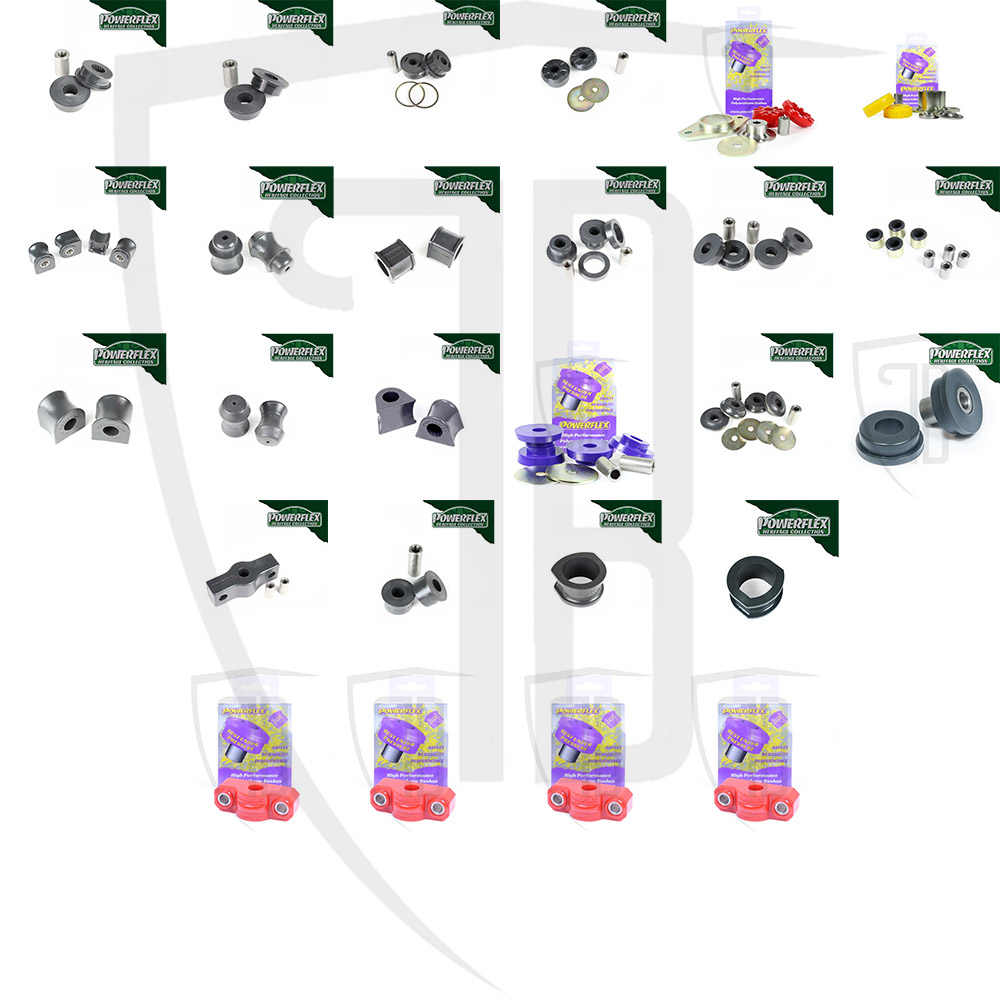 All Powerflex Bushes for Lancia Delta integrale 8v and 16v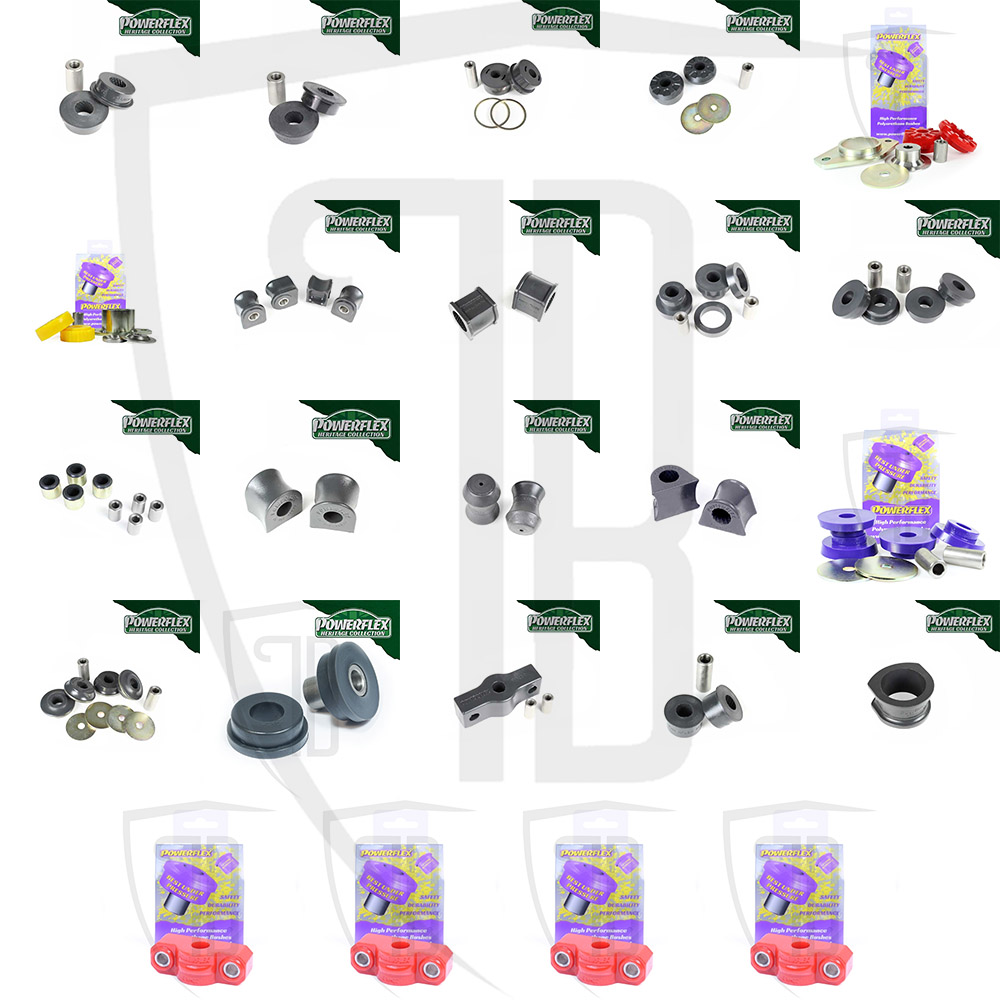 All Powerflex Bushes for Lancia Delta integrale Evo and Evo 2